Strategic move to Pathway Devens will prepare the fast-growing climate tech company for continued growth in a world-class facility
WESTBOROUGH, Mass., (September 20, 2023) — Ascend Elements today announced plans to move its corporate headquarters and research & development center from its current location in Westborough, Mass. to a 101,000 square foot facility at 39 Jackson Road in the Pathway Devens campus in Devens, Mass. The facility is owned and operated by King Street Properties in Boston. Ascend Elements has experienced over 500% headcount growth in the last 18 months and currently employs approximately 350 team members globally, including 140 people in Massachusetts. The 31-mile relocation is planned for September 2024.
"This relocation will be a milestone for Ascend Elements as we continue our rapid growth in the engineered battery materials industry," said Mike O'Kronley, CEO of Ascend Elements. "The Pathway Devens location is a world-class facility with excellent amenities in a community of cleantech and biotech innovators. We look forward to having space to expand and a facility that will meet our current and future needs."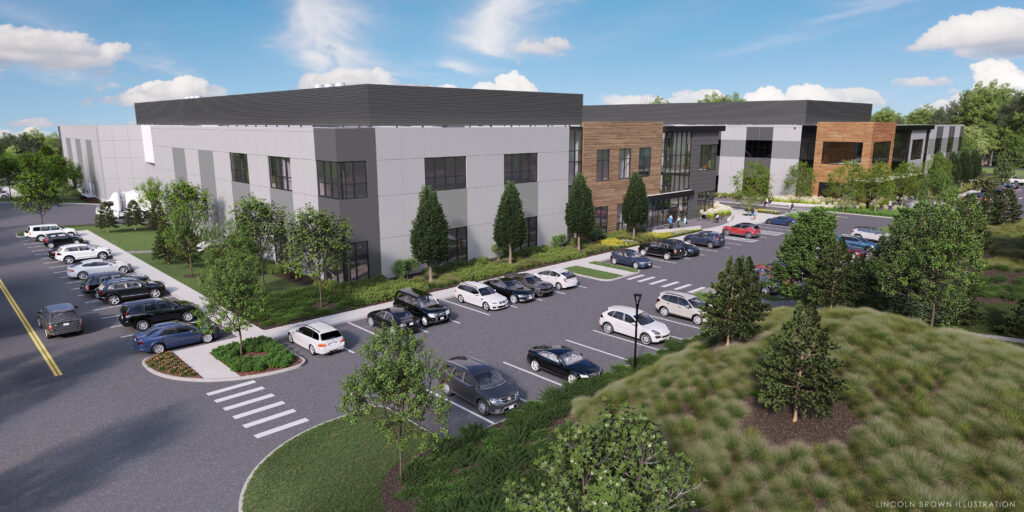 Pathway Devens is a 45-acre, purpose-built development in the heart of Devens and includes an 8,300 square foot amenity center and taproom that King Street will be opening in Q1 2024. The amenity center will be a feature element of the campus designed to create a welcoming environment for workers as well as the surrounding community to socialize. The building includes a fitness center, lounge area, and a game room and a café. Other businesses located on the campus include Electric Hydrogen, Commonwealth Fusion Systems and Azzur Group.
"Ascend Elements' mission to create a more sustainable lithium ion battery supply chain aligns with King Street's mission to create science campuses that ultimately help solve human health and climate issues, and we are thrilled to welcome them to our growing roster of tenants at Pathway Devens. This addition further solidifies Devens as the top destination in Greater Boston for innovators engaged in advanced manufacturing," said Tyson Reynoso, Managing Director & Partner, King Street Properties.
Ascend Elements is a leader in the electric vehicle battery materials and battery recycling industry. The company uses its patented Hydro-to-Cathode® direct precursor synthesis process to transform used lithium-ion batteries and gigafactory manufacturing scrap into new, engineered battery materials for electric vehicles, specifically cathode active materials (CAM) and cathode precursor (pCAM). The patented process eliminates several intermediary steps in the traditional cathode manufacturing process and provides significant economic and carbon-reduction benefits. The company's customers include Honda, SK Battery America, Freudenberg e-Power Systems and others.
Ascend Elements recently closed a $542 million funding round and received $480 million of U.S. Department of Energy grant awards to accelerate construction of a $1 billion engineered battery materials manufacturing campus in Hopkinsville, Kentucky. Ascend Elements also operates one of North America's largest electric vehicle battery recycling facilities in Covington, Georgia. While the company is expanding in the southeast United States, O'Kronley says central Massachusetts is home.
"For a climate tech company in growth mode, Massachusetts is the only place to be," O'Kronley said. "Our technology was invented at Worcester Polytechnic Institute and our first location was in Worcester. We have very strong ties to the area, and we look forward to becoming part of the Devens community."
About Ascend Elements
Founded in 2015 and based in Massachusetts, Ascend Elements is the leading provider of sustainable, closed-loop battery material solutions. From EV battery recycling to commercial-scale production of lithium-ion battery precursor (pCAM) and cathode active materials (CAM), Ascend Elements is revolutionizing the production of sustainable lithium-ion battery materials. Its Hydro-to-Cathode® direct precursor synthesis technology produces new CAM from spent lithium-ion cells more efficiently than traditional methods, resulting in improved economics and lowered GHG emissions. With fewer batteries going to landfill and a cleaner manufacturing process, Ascend Elements is taking the lithium-ion battery industry to a higher level of sustainability.
About King Street Properties
King Street is a private real estate investment management firm focused on serving the complex needs of science-based companies and institutions. Their experienced professionals combine big-company experience with a hands-on entrepreneurial approach to execute its tightly defined mission. King Street owns and operates 3 million square feet of stabilized assets with an additional 4.5 million square feet under development.
MEDIA CONTACTS:
Thomas Frey, APR
Ascend Elements | [email protected] | +1.734.658.0143
Carolyn Spicer
King Street Properties | [email protected] | +1. 617.908.7701